PLA conducts live-fire exercises around Taiwan
Share - WeChat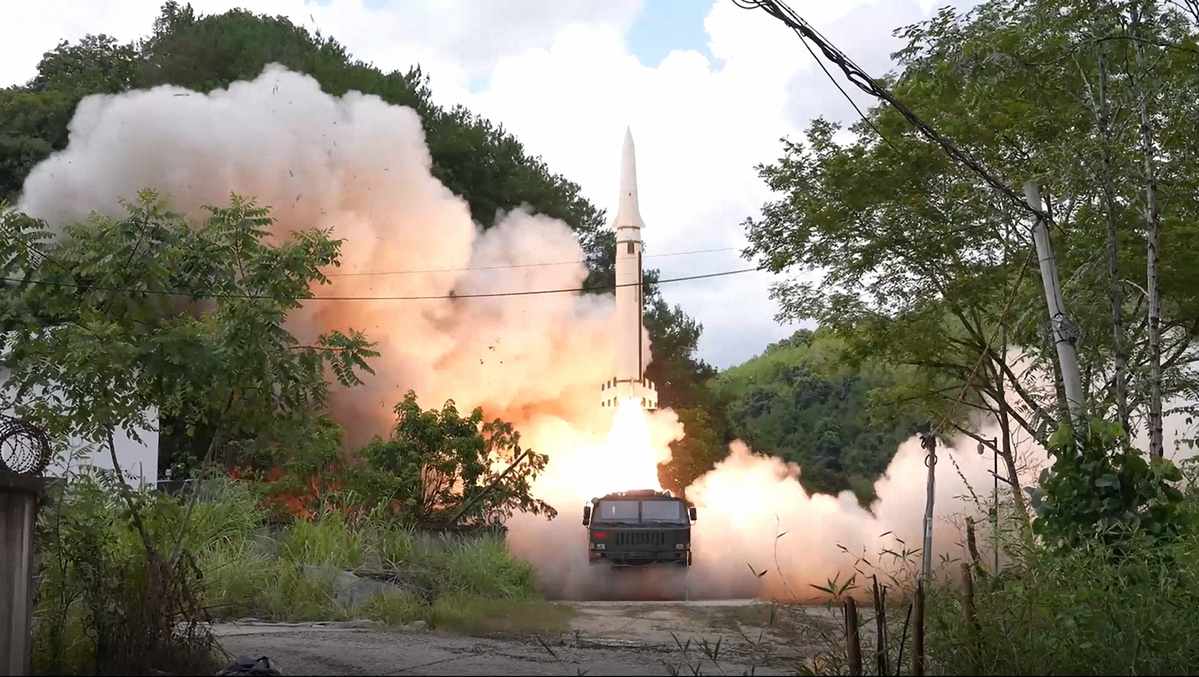 The People's Liberation Army conducted a series of live-fire exercises and training operations around Taiwan on Thursday, including the firing of multiple ballistic missiles, after United States House Speaker Nancy Pelosi wrapped up her visit to Taiwan on Wednesday.
Senior Colonel Shi Yi, spokesman for the PLA Eastern Theater Command, said that the PLA Rocket Force, from multiple locations on the mainland, launched several types of ballistic missiles carrying conventional warheads to designated water areas off the eastern coast of Taiwan on Thursday afternoon. All of the missiles accurately hit their targets, he said.
The drills tested the Rocket Force's capabilities to fulfill precision attack and area-denial tasks, the spokesman noted, adding that the missile test operations had finished and the related airspace and waters had been reopened to civilian use.
Video clips published by the command showed several DF-15B short-range ballistic missiles being fired from mobile launch vehicles in mountainous regions. Vehicles carrying what appeared to be a larger missile model were also seen traveling by road in the clips.
Senior Colonel Ren Yang, commander of a PLA Rocket Force brigade involved in the operation, told China Central Television on Thursday that all of his troops "have been prepared to handle sophisticated, tough situations".
"We will follow orders and honor our missions. We will complete all of the combat tasks with all-out efforts and thwart any form of foreign interference and 'Taiwan independence' acts," he said.
This was the first time that the PLA's ballistic missiles have flown right over Taiwan and it was intended to send a clear warning to "Taiwan independence" forces on the island, according to Major General Meng Xiangqing, a high-ranking researcher at the PLA National Defense University in Beijing.
Also on Thursday afternoon, artillery units of the PLA Eastern Theater Command carried out a long-range strike exercise bombarding designated areas in eastern parts of the Taiwan Straits.
The exercise took place around 1 pm as multiple-rocket launchers fired precision-guided munitions, according to videos from the command.
Lieutenant Colonel Jin Zong, commander of an artillery battalion, said the exercise had achieved its planned goals and tested the unit's fighting power.
"It also strengthened my soldiers' confidence of winning victory. We will use our high spirit and precision strikes to protect the nation's sovereignty and territorial integrity," he told CCTV.
More than 100 aircraft, including the PLA's best combat planes — such as the J-20 stealth fighter jet, the J-16 strike jet and the YY-20 aerial refueling aircraft — were sent to airspace to the north, southwest and southeast of Taiwan to perform joint reconnaissance, air penetration and fire support drills.
Meanwhile, more than 10 guided-missile destroyers and frigates had been deployed near Taiwan to fulfill blockade and area-denial tasks, according to the PLA Eastern Theater Command.
The command has been conducting joint exercise and training operations in the air and waters surrounding Taiwan since Tuesday night.