The English Channel migrant numbers hit daily record
Share - WeChat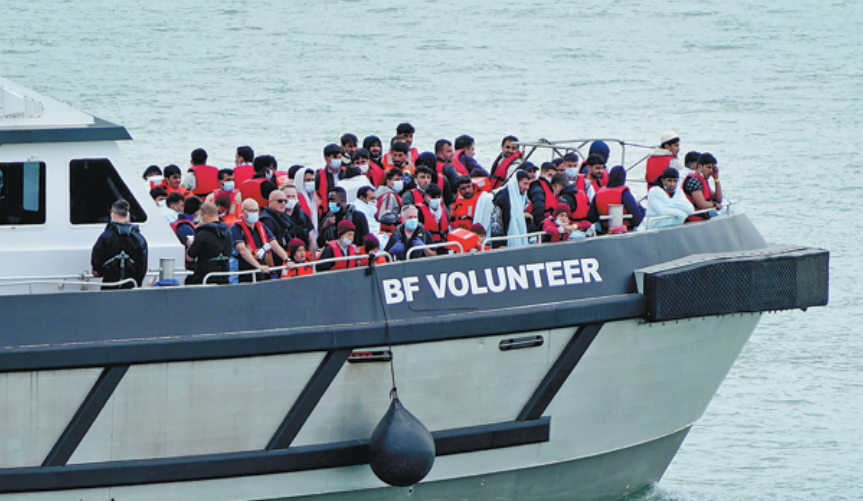 Monday saw the highest number of migrants so far this year attempt to cross the English Channel from mainland Europe to the United Kingdom, official figures have revealed.
The Ministry of Defense said 696 people in 14 boats made the crossing, exceeding the year's previous highest daily total of 651 recorded in April.
According to government statistics, more than 17,000 people have arrived in the UK so far this year after crossing the busy shipping route from northern France, compared to a total of 28,526 for the whole of 2021, which was in turn an increase of more than 8,000 from the total of 2020.
In April, the government announced plans to send some asylum-seekers to Rwanda to claim asylum there instead, but the first flight was canceled at the last minute because of a legal challenge, and the policy is currently on hold until the fall, pending the outcome of another court hearing.
Politically divisive policy
The Rwanda policy has proved deeply politically divisive and caused a row between the British Home Office and the United Nations refugee agency, which claims its views have been misrepresented. The policy was intended to act as a deterrent, but members of Britain's Border Force said they have seen no such impact-if anything, the opposite.
"There's no indication that the policy is acting as any form of a deterrent at this point because we have not done it and there's no significant expectation that we would do it," Lucy Moreton, from the ISU union which represents Border Force officers, told the Daily Telegraph newspaper, adding that some smugglers were using the threat of the policy as a means to encourage people to "get over now before it is introduced".
It has also been reported that the smugglers are using it as an excuse to increase boat capacity, putting those on board at even greater risk. Last November, a boat crossing the Channel capsized, causing the deaths of 27 of the 30 people on board.
"The rise in dangerous Channel crossings is unacceptable," a government spokesperson told the BBC. "People should always claim asylum in the first safe country they reach, rather than risk their lives and line the pockets of ruthless criminal gangs in order to cross the Channel."
The issue of small boat crossings has caused tension between the UK and France, with accusations that France has not done enough to stop boats from entering the waterway in the first place.
But officials from the UK's National Crime Agency said France has "stepped up" efforts, with around half of all attempted crossings now being stopped.